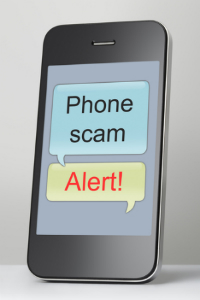 Over the past few months, I have been receiving calls from clients and prospects regarding an IRS phone scam.  The callers have informed me that they received a call from someone at the IRS threatening to throw them in jail, revoke their driver's license, or seize all of their belongings if they do not pay over a sum of money.  The Treasury Inspector General for Taxpayer Administration (TIGTA) is aware of this scam and has issued a warning to taxpayers. The callers claim to be from the Internal Revenue Service tell intended victims they owe back taxes and must pay by wire transfer or a pre-paid debit card.  Dealing with the IRS on a day to day basis, I can tell you this is not how the IRS contacts people who owe money.  Generally, the IRS will notify people with a series of letters, not by phone, regarding unpaid taxes.  The IRS will never ask for payment by wire transfer or a pre-paid debit card. TIGTA advised that if you receive a threatening call from someone claiming to be from the IRS, then hang up the phone and call the IRS directly at (800) 829-1040.  A list of IRS contact numbers is on the following website: http://www.irs.gov/uac/Telephone-Assistance.  When you speak to the IRS, inform them of the phone call and ask if your account is in good standing. If you have been a victim of this scam, then you should, at a minimum, complete the following steps:
File a local police report
Go to the IRS Treasury Inspector website  (http://www.treasury.gov/tigta/contact_report_scam.shtml).  Complete the form and retain a copy of the pin number;
Contact the Federal Trade Commission (use their "FTC Complaint Assistant" at FTC.gov. and add "IRS Telephone Scam" to the comments of your complaint in the "Other" Section. (https://www.ftccomplaintassistant.gov/#crnt&panel1-1) ;
Contact the FBI
Contact the Attorney General's Office in the state you reside.
If you have been a victim of the IRS impersonation scam, IRS identity theft, or another tax scam, then contact the Law Offices of Todd S. Unger, Esq. for help.
Continue Reading...