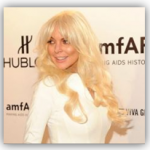 The IRS filed a Notice of Federal Tax lien against Lindsay Lohan in an amount of $140,203.40 for a 2010 back income tax liability.  This is nothing new for Lohan as the IRS had filed a Notice of Federal Tax Lien for the 2009 tax year in an amount of $93,000.00.
According to TMZ, Lohan's personal representative told Page Six that "Lindsay's personal finances are her business and no one else's." Unfortunately, her personal representative is dead wrong:  It's now everyone's business.
By filing a Notice of Federal Tax Lien, a taxpayer's creditors are publicly notified that the IRS has a claim against a taxpayer's property, including property acquired after the lien is filed. The tax lien is used by courts to establish priority in certain situations, such as bankruptcy proceedings or sales of real estate.
A tax lien can have devastating consequences such as tarnishing a taxpayer's credit, making it difficult to refinance and borrow against property, impairing title, and in some cases, the loss of a job.
If you have been notified by the IRS that it has or is about to file a tax lien against you, the Law Offices of Todd S. Unger, Esq., LLC may be able to help. Call us today at (877) 544-4743, or fill out a contact form and request a consultation.