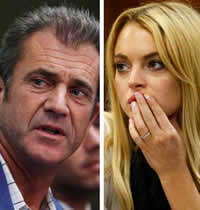 After an alleged nightclub altercation and horrible reviews for her comeback role as Elizabeth Taylor, things continue to get worse for Lindsay Lohan.  According to Page Six, the IRS has seized Lohan's bank accounts to compensate for her unpaid taxes for 2009 and 2010.

In order for the IRS to take enforcement action, such as a seizure, the government must issue a series of notices and demands for payment.  Prior to enforcement action, unless there is a jeopardy situation, such as leaving the country, the IRS will issue a Final Notice of Intent to Levy.  The Final Notice of Intent to Levy would provide the taxpayer with due process rights, inclusive of the right to oppose a tax seizure in the United States Tax Court.
But wait, didn't Charlie Sheen just give Lindsay $100,000.00 to help her tax woes?  That $100,000.00 barely covered what Lohan owes the IRS – a total of $233,904.00 for both 2009 and 2010.  The $233,904.00 is based on a Notice of Federal Tax Lien that was filed in Los Angeles Country Court; therefore, it is possible that Lohan may owe the IRS more. The IRS will file a Notice of Federal Tax Lien on a year by year basis.  It's possible the IRS will file a tax lien for additional years.
According to TMZ, Lindsay is on "full-on panic mode" about her finances. Lohan claims that her IRS problems are not her fault and blames her management team. Her managers are currently trying to negotiate a deal to repay the money Lohan owes and plan to have it resolved by the end of the year.
Lindsay's father, Michael Lohan, blames his ex-wife, Dina, for her financial problems. Lindsay gave her mother $40,000.00 to keep her Long Island home from being foreclosed.  Michael says he has ". . . people who will help her with her IRS problem."  Let's hope Mel Gibson is not one of those people.  Wait, he is!
That's right, Mel Gibson recently told Extra that he has reached out to Lohan in the past and "may again."  Braveheart vs. the IRS?  Mel, the IRS can take your freedom and your stuff.