A New Tax Attorney Office Near Midtown West New York
Meet Todd Unger, an experienced tax attorney based in New Jersey. But what you may not know is that he's a New York native who grew up on Long Island. Now, he's excited to bring his expertise and help fellow New Yorkers resolve their tax issues.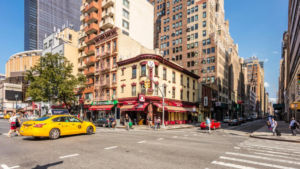 As a former equity trader and longtime resident of both New York City and Philadelphia, Todd has almost exclusively worked with New Jersey residents in the past. But with the recent opening of his Iselin, NJ office, he started receiving calls from New York businesses and individuals who needed a local tax attorney.
For Todd, it's full circle. "I love New York, and opening a NY tax law office is a great way to allow me to help solve tax problems in the community in which I grew up," he says. "New York will always be my home and a place from where I am proud to have been raised". Reach out to Todd Unger today to get the expert tax help you deserve.
If you're facing tax disputes with the IRS or state taxing authorities, The Law Offices of Todd Unger is here to help. Our New York Tax Attorney office handles cases involving back tax concerns, sales tax problems, tax evasion, criminal and civil tax litigation, and international tax matters. Our priority is to resolve your tax dispute through hard advocating and legal solutions.
Presenting your tax case to the IRS effectively can make all the difference in finding a successful tax resolution. With years of experience, Todd Unger, a skilled New Jersey tax attorney, is equipped to represent your case to the IRS in the most favorable manner possible. Although negotiating with the IRS can be complex and unpredictable, you can trust Todd Unger to work tirelessly towards achieving the best possible tax settlement or resolution. With his commitment and expertise, you can rest assured that your tax dispute is in good hands.
To learn how we can help you resolve your NY tax issue, contact Todd Unger at (877) 544-4743 for a confidential tax consultation. Let us take care of your tax issues while you focus on your business and personal life.