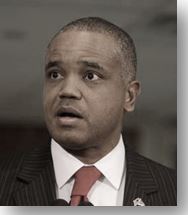 As news broke by several Ohio newspapers that Lieutenant Government candidate Sen. Eric Kearney (D) and his wife owed significant back taxes to the Internal Revenue Service and to state taxing agencies, the candidate decided to pull out of the race.
Races Heats Up as Candidates Face Questions
The race is a heated one, with Cuyahoga County Executive Ed FitzGerald (D) picking the state senator as a running mate in November. And, with only a few weeks to go, this puts the democratic candidate on the line. 
Newspapers Uncover Taxes
According to several Ohio newspapers, Kearney and his wife owe nearly $1 million in federal taxes. The newspapers were able to uncover several tax liens that he and his wife, as well as their media company have. The filing of a tax lien is standard procedure when you owe the IRS more than $10,000.00 (raised from $5,000.00 in 2012 as part of the IRS Fresh Start Initiative).
Unlike a levy, garnishment, or seizure, the filing of a Notice of Federal Tax Lien is not the taking of property, but rather a security to protect the government's interest in the collection of back taxes. As part of its procedure, the IRS will file a Notice of Federal Tax Lien in the county courthouse where the taxpayer resides or has property. By filing a federal tax lien, the IRS puts everyone on notice, including the Ohio newspapers that broke the news of Mr. Kearney, that the taxpayer owes the IRS money.
The candidates had no real answers about the tax liens nor whether or not these were being paid back.
Both of the candidates made statements in which they called the back taxes, "distractions" in the race, and noted that the taxes were the reason the Kearney decided to end his candidacy.
FitzGerald's Decision Making Questioned
Another hot point for FitzGerald is the result of a letter he sent announcing his selection of Kearney as a running mate. In the letter to his supporters, he is quoted as saying that the decision to pick a running mate is, "the first real decision a governor makes." This creates a hot point for the candidate going forward. It's likely that his opponent, current governor John Kasich (R) will use this "decision making" blunder against FitzGerald.
Who Will FitzGerald Pick?
There's no information about who FitzGerald will name as a second choice. However, by looking at the political map of Ohio, it is likely that he will choose a candidate from Cincinnati or Columbus to bolster his ticket. Kearney was from the Democratic hot spot of Cincinnati. FitzGerald is from Cleveland.