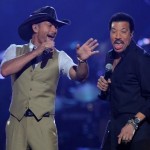 Didn't it feel random that music icon, Lionel Richie, came out with Tuskegee?  Tuskegee is a collection of hits recorded with country music's biggest names. Richie's duet partners included Jason Aldean, Kenny Chesney, Tim McGraw, Rascal Flatts, Blake Shelton, Darius Rucker, Billy Currington, Shania Twain, Kenny Rogers, and Willie Nelson.
To promote the album, CBS aired a special concert event recorded at MGM Grand Garde Arena where an army of superstars saluted the icon.  But why?  Why has this R&B and pop legend gone country?  I think we may have found the answer.
Hello?  Is it me you're looking for?
Yes!  On April 2, 2012, the IRS filed a Notice of Federal Tax Lien for a 2010 income tax liability in the amount of $1,130,609.11.
When you owe the IRS back taxes, a tax lien arises automatically which is known as a "secret" lien.  The tax lien arises as a matter of law against a taxpayer without the necessity of filing a public.  However, the statutory or "secret" lien is not effective against any purchaser, holder of a security interest, mechanic's lienor, or judgment lien creditor until a Notice of Federal Tax Lien has been filed. By filing a Notice of Federal Tax Lien, Lionel Richie's creditors are publicly notified that the IRS has a claim against a taxpayer's property, including property acquired after the lien is filed.
I guess it wasn't "easy" to get money from the Commodores, his ex-bandmates (joke rimshot). Therefore, the only other solution: Going Country.  Tuskegee debuted at No. 1 on Billboard's country albums.
A tax lien can have devastating consequences such as tarnishing a taxpayer's credit, making it difficult to refinance and borrow against property, impairing title, and in some cases, the loss of a job.  If you have been notified by the IRS that it has or is about to file a tax lien against you, the Law Offices of Todd S. Unger, Esq., LLC may be able to help. Call us today at (877) 544-4743, or fill out a contact form and request a consultation.